Essential Info
Staying safe in your accommodation
Knowing just a little bit about fire prevention and what to do in the event of a fire could potentially save your life
We take your safety very seriously and want you to enjoy a safe environment when you live with us. Watch our fire safety video for some useful information about fire safety in your new student home.
You'll also get to enjoy some mind-bending edits like this...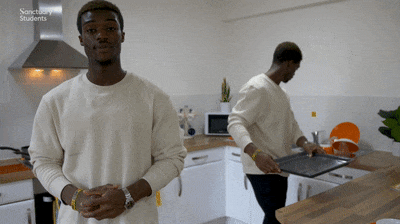 Stay safe from fire
Your building, your flat and your bedroom are protected by a fire and smoke alarm system.
Follow the following guidelines to reduce the risk of fires happening:
Never burn candles, oil burners or joss sticks – these are dangerous and are banned from our accommodation.
Never cover your room heater with anything.
Do not leave cooking unattended and switch off appliances after use.
Don't cook using a dirty grill pan or hob.
Don't put anything metallic in the microwave.
Don't cook when tired or under the influence of alcohol or drugs.
Don't prop fire doors open.
Don't leave fairy lights switched on and unattended.
Don't us chip pans and barbecues - they are banned from our accommodation
Only use thermostatically controlled deep fat fryers.
Safety equipment
Fire-fighting equipment exists for your safety. Misusing fire-fighting equipment (including fire blankets and extinguishers) will jeopardise your tenancy and the lives of you and your neighbours. Any interference with equipment may incur penalties against either you or your flatmates, and may lead to criminal prosecution.
Smoke and heat detectors
Don't tamper with detectors or cover them – they could save your life.
Avoid false alarms!
To avoid unnecessary fire service call outs and evacuations:
Do not tamper with detectors – this may activate the alarm
When showering, ensure the ventilation fan is running and your bathroom door is closed
Use a steam iron, hair straighteners or dryers and aerosols away from fire detectors
Ensure extractor fans are running, windows are open and the kitchen door is closed when cooking
Fire drills
The fire alarms are tested in each property every week. Fire drills are a legal requirement and are held throughout the year. The fire evacuation procedure is different at each property so familiarise yourself with the fire action notices, evacuation routes and assembly point of your site.
On discovering a fire:
Sound the fire alarm
Get out of the building
Call the fire brigade on 999
Let a member of our team know
On hearing the alarm:
Get out of the building
Close doors behind you
Don't use lifts
Don't rush or push
Meet at the assembly point (identified on the notice on your bedroom door)
Do not attempt to re-enter the building until a fire officer or member of our team says it is safe to do so
Contact us if you have any questions about our fire safety procedures.
Please inform the on-site team if any fire-fighting equipment is missing or damaged so that it can be replaced or repaired quickly.
Topics