Life in Halls
Recipes from around the world: Birriamen
Mexican-Asian Fusion.
Birriamen (also known as Birria Ramen) is a culinary masterpiece that enhances the great spicy Birria meat stew by combining it with noodles.
Ingredients
(Serves 6)
2 each guajillo and ancho chiles
½ teaspoon cumin seeds
2 pounds lamb, goat, or beef chuck stew meat or a roast cut into 2" cubes
2 teaspoons kosher salt (plus 1 tsp MSG, optional)
2 teaspoons oil
1 medium white onion, quartered
4 cloves garlic, smashed
½ cinnamon stick (or ¼ tsp ground cinnamon)
1 teaspoon Mexican oregano
2 bay leaves
½ teaspoon ground coriander seed
½ teaspoon ground black pepper
1-inch ginger root, peeled and grated
1-quart unsalted beef stock
1 15-ounce can crushed fire-roasted tomatoes
2 tablespoons apple cider vinegar
2 12-ounce packs of Noodles
6 flour or corn tortillas (Corn is better)
A bag of Mozzarella grated cheese
Toppings: Minced onion, chopped cilantro, and hot sauce
Method
In a small pan over medium heat, toast the chiles and the cumin seed until fragrant, about 2 minutes, shaking the pan and flipping the chiles midway through cooking. When they're cool enough to handle, remove the stems and seeds from the chiles and transfer the chiles and cumin to a spice grinder. Process to a fine powder.
Season the meat with the salt, then heat the oil in the pressure cooker. Working in batches to avoid overcrowding the pan, brown the meat on all sides (using the browning function if using a countertop pressure cooker), removing the meat to a bowl with tongs in between batches. Add more oil if necessary, and stir-fry the onion and garlic for about 2 to 3 minutes, until they begin to caramelize on the edges.
Add the ground chiles and cumin along with the remaining spices, and stir them around for a second before adding the beef stock. Scrape up the browned bits with a wooden spoon, then return the meat to the pot. Add the tomatoes and vinegar plus enough water so that the meat is covered by about an inch of cooking liquid. Affix the lid of the pressure cooker and cook on high pressure for 30 minutes. Allow the pressure cooker to depressurize on its own, then carefully remove the lid and adjust the seasoning to taste. Keep the consommé at a steady simmer while you prepare the noodles.
Bring a large pot of water to a rapid boil. Tease apart noodles and add to boiling water. Cook for 1 minute 30 seconds. Use a timer so you don't cook them too long! Drain in a strainer. Rinse briefly under running water to remove any excess starch. Divide into six bowls. Ladle the consomé into the bowls, then top each bowl with a generous scoop of birria, as much onion and cilantro as you like, and a splash of hot sauce.
Use the tortillas to make quesadillas by heating the tortilla topped with mozzarella and some birria meat on a pan. Then dip them in the Birriamen and enjoy!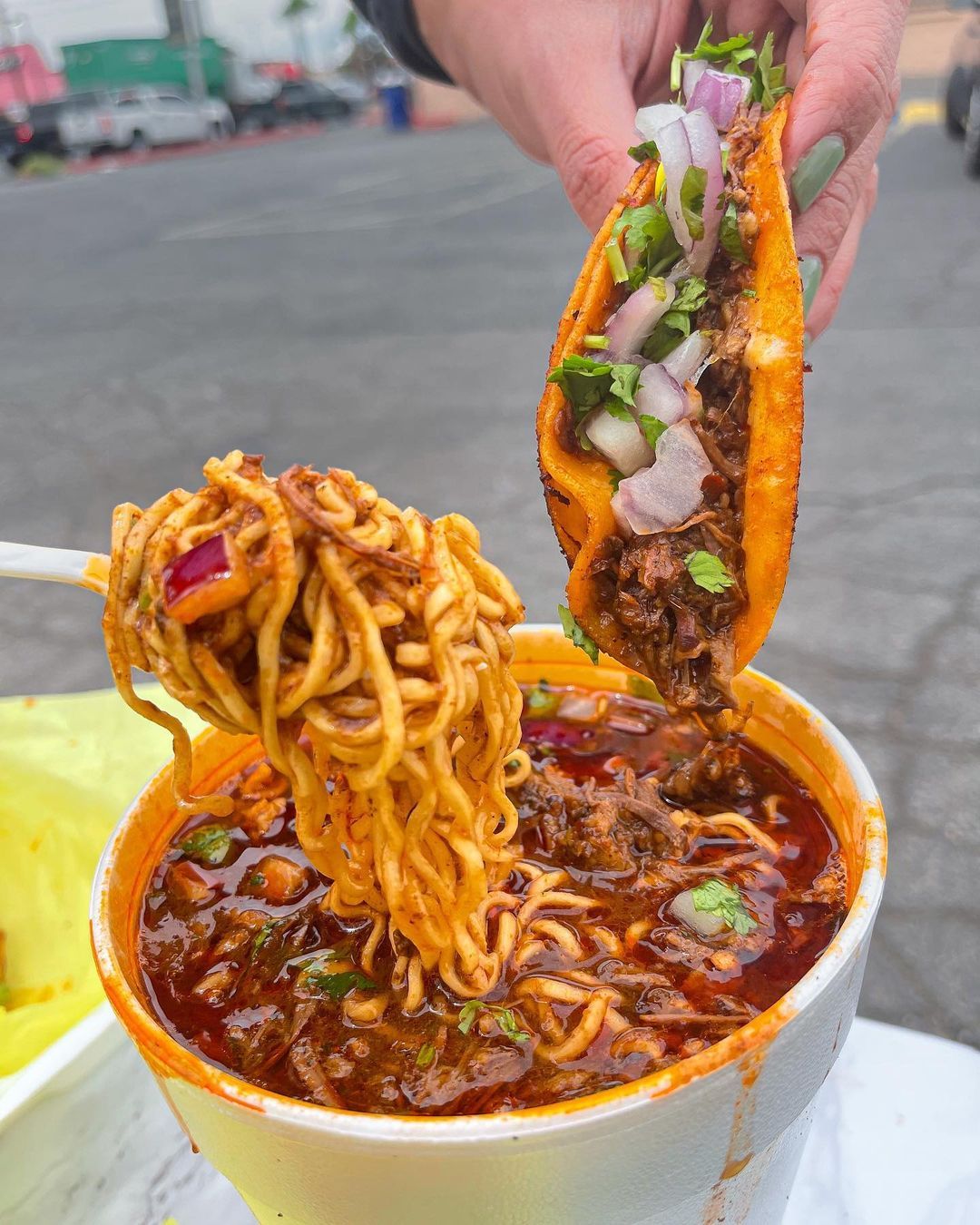 Courtesy of Diego Lazcano!
Look out for more delicious dishes created by students on Sanctuary Social.
Topics